biography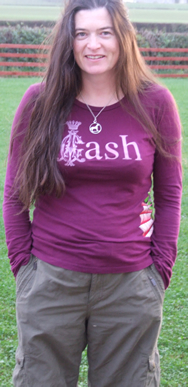 I was born in Bagenalstown, Co. Carlow and attended Loretto Convent Wexford and Presentation Convent, Bagenalstown. From 1983 to 1985 I studied Visual Communication at Dun Laoighaire School of Art and Design and following college, I travelled in the U.S.A., U.K. and Canary Islands before settling in Dublin working as a freelance illustrator until 1993. I then took up a post in A.P.S.O. as a lecturer in Applied Art & Design at a Teacher Training College in Zimbabwe.
I started to paint in Zimbabwe and after my 2 year contract, I returned to Dublin in 1995. I have produced many wall hangings and large paintings on commission in the 10 years from 1995 to 2005. I have only really started to develop personal vision and direction for my work since then.

My work is in many private and public collections, including:

• Bank of Ireland
• Glanbia
• Private Clinic, St. James Hospital
• Carlow Institute of Technology
• E.P.A. (Environmental Protection Agency)
• John De Vere
• Haberty Trust
• The Department of Education


I have two children aged 13 and 9, and live with my partner and family in Co. Kilkenny, Ireland.